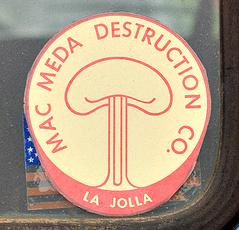 Okay here is the deal … you want or would like to get a hold of Mac Meda, please fill out the form. We tried to make it as simple as possible for those that are not computer wise.
If you can not read the CAPTCHA letters (to help prevent spammers) because you are to stone or drunk to see … we put on a voice so you can hear.  Cool Huh?
You can then  send us the story, comments, remarks in the below form. Or request info on Mac Meda.
Now if you have an great picture you want to also share, FRICKEN, please make sure sure the picture, photo, or graphic is the right size, in other words, DON'T SEND us a photo that is over 5-megs. Our email will bounce it!
Try and keep the photo to  less then 1 meg of file size. And if you got some photo editing skills, make sure the photo is in a gif file (but jpeg is cool)  and not to exceed 500px wide otherwise go ahead and send it and we will resize it…
And then send it to us at  meda(at)macmedadestruction.com (and don't be a fuckn' idiot and put  (at)  instead of @ in your email address to us.
If you can't do any of the above or just don't understand this computer shit, get your son, daughter, mistress, wife, husband,  girlfriend, boyfriend, dog, cat, the next door neighbor, etc and get them to do it.
Now if you want a respond, it may take anywhere from a few seconds to a few days  … we may be on a bender
… and have a Great Mac Meda Day!
Mac Meda Destruction Company – Disclaimer Statement for this Website
Information presented on this website is considered public information (unless otherwise noted) and may be distributed or copied. Use of appropriate byline/photo/image/stories/content  credit is requested and it is copyrighted to Mac Meda and their respective parties and agents. Mac Meda would very much like that if the use of such material that you obtain permission first. If you ask, chances are you shall receive!
Mac Meda does not condemn or patronize some of the material on this website, but it is only a factual accounting (to the best of our knowledge) of a period of time (1960s-1970s) that surrounded the beach areas of  Southern California, Mexico and particularly the La Jolla area. La Jolla, CA is where Mac Meda was founded.
Mac Meda and its assigned parties and agents makes every effort to provide accurate, factual, and complete information for various data such as names, events, time frames, stories etc., and all may change on a day to day and prior to updating and uploading.
Mac Meda welcomes suggestions on how to improve our home page and correct errors.   However, provides no warranty, expressed or implied, as to the accuracy, reliability or completeness of  "others" that furnished content for this website.
If Mac Meda feels the content/material furnished by "others" is not accurate, the post will be deleted.  In other words, Mac Meda does its best to try and control and but cannot guarantee the relevance, timeliness, or accuracy of outside materials that are uploaded to the website.
For site security purposes and to ensure that this service remains available to all users, Mac Meda employs software programs to monitor network traffic to identify unauthorized attempts to upload or change information, or otherwise cause damage.
Unauthorized attempts to upload information or change information on this website are strictly prohibited and may be punishable under the Computer Fraud and Abuse Act of 1986 and the National Information Infrastructure Protection Act. Information may also be used for authorized law enforcement investigations.