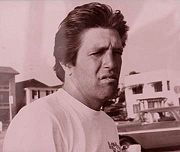 Recently I attended a memorial service for Harry Phillips, the former owner of Flowers by Adelaide in La Jolla.  I was having a conversation with some of the former delivery boys who worked for Harry over the years.  Randy Miller, Harry's nephew, told a Windansea Tale.
Legendary surfer Butch Van Artsdalen was holding court at the Windansea lot and Randy was with Charlie Broan in one of the Adelaide's delivery trucks.
Broan was driving and his goal was to sneak up behind Butch and hit the horn.  Something went wrong and Broan actually hit Butch and knocked him ass over teakettle.  Butch came up with a gash on his head and needed to be taken to Scripps Hospital Emergency Room.  The hospital was located then on Prospect across from the Rec. Center and Bishops School (on which now sits a huge butt-ugly condo project).
When Randy and Charlie got back to the shop, they had to tell Harry they had been in an accident and a guy had to be taken to the hospital.  Harry wanted to get to the hospital to talk to Butch before any Insurance Agents got involved, which he did.  After exchanging pleasantries, Harry said he would like to see if there was anything he could offer to Butch to keep the incident "Under Wraps".
Butch said, "Yeah, get me a keg, delivered to [Windansea] beach in two hours and we'll be even".
Harry complied.
The Legend of Butch had another chapter.
Thanks to Dan Dameron for the post.
Meda Editors Note: The Photo was taken by Jon Sarrett at WindanSea Parking lot. We got the photo from Wikipedia (click on link above) our sincere  apology to Jon, now we can give credit where credit is due. We hope Wikipedia does the same.