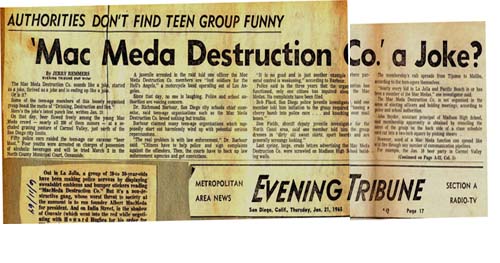 The Mac Meda Destruction Co. sounds like a joke, started as a joke, thrived as a joke and ended up like a joke.
Or is it?
Some of the teen-age, members of this loosely organized group boast the motto, "Drinking Destruction and Sex"
Here's the joke punch line, written Jan 10 (1965):
On that day, beer flowed freely among the young Mac Meda crowd – nearly 200 of them minors – at a secluded grazing pasture of Carmel Valley, just north of the San Diego City limits.
Fifty police cars raided the teen-aged car caravan "beer blast" Four youth were arrested on charges of possession of alcoholic beverages and will be tried March 2 in a North Country Municipal Court, Oceanside.
A juvenile arrested in the raid told one officer the Mac Meda Destruction Co, members are "foot solders for the Hells Angles", a motorcycle band operating out of Los Angeles.
Since that day, no one is laughing. Police and school authorities are voicing concern.
Dr Richmond Barbour, San Diego city school chief counselor, said, teen-aged organization such as the Mac Meda Destruction Co. breed nothing but trouble.
Barbour claimed many teen-aged organization, which supposedly start out harmlessly wind up with potential; serious repercussions.
"The real problem is with law enforcement," Dr Barbour said. "Citizens have to help police and sign complaints against the offenders. Then, the courts have to back up law enforcement agencies and get convictions.
"It is no good and it just another example where parenting control is weakling, according to Barbour.
Police said in the three years that the organization has functioned; only one citizen has inquired  about Mac Meda. No complains have been filed.
Bob Flood, San Diego police juvenile investigation, said tone member told him initiation to the group required, "tossing a cherry bomb into a police car … and knocking over mail boxes.
Don Fields, sheriff deputy juvenile investigator for the North Coast areas, said, one member told him the group dresses in "dirty old sweat shirt, sports beards and are generally scroungy looking."
Last spring large crude letter advertising the Mac Meda Mac Meda Destruction Co, were scrawled on Madison High School building walls
The membership cult spreads from Tijuana to Malibu, according to the teen-agers themselves. "Nearly every kid in La Jolla and Pacific Beach is or has been a member of the Mac Meda" one investigator said.
The Mac Meda Destruction Co. is not organized in the sense of electing officers and holding meeting, according to the police and schools authorities.
John Snyder, assistant principal of Madison High School said, membership apparently is obtained by stenciling the name of the group on the back side of a class schedule card cut into tw0-inch squares by pinking shears.
However, word of the Mac Meda function can spread like wild fire through any number of communication pipelines. For example, the Jan 10 beer party in Carmel Valley originally was advertised by a sign in a Pacific Beach beer tavern.
Originators of the Mac Meda Destruction Co., boast chapters from Costa Rica to San Francisco and from Aspen. Colo., to Australia.
Jack McPherson, a mailman for the La Jolla Post Office, said, the butt of the "joke" was from his formal roommate, a fisherman called Albert MacMeda.
"Albert, who is about 5-foot-4 and 190 pounds, is sort of a clumsy. You know how some people are always spilling drinks or breaking glasses at parties," MacPherson said.
Friends called Albert the "Mac Meda Destruction Co." MacMeda is an extroverts … "kind of a fanatic about spreading his name around" his friend said.
The original Mac Medas expanded "memberships" by stenciling the name on T-shirts – and new chapters.
MacPherson said the last time he heard from Mac Meda was during the summer when the fisherman was in Costa Rica.
McPherson said he "couldn't care less" the way teenagers have adopted members but says what they do is their business.
Police evaluation of the teen-ager organization is twofold.
Lt Robert Randle of the sheriff's office regards the group as a "serious potential threat to the community" However, he regards membership as "mostly talk and something to join"
San Diego police crime reports fail to pin any form of teenage "drinking, destruction and sex" on the Mac Medas as an organized gang.
School authorities regard the membership as "curious"
Cy Harris boys vice principle of La Jolla High School said, "I don't like it. The entire thing is a bad attitude, but really, there is nothing much you can do about it"
Special thanks to Harry Marriner, who saved this article after 45 fricken years!! He also sent the following message to Dave Osborn…

Hi Dave,
Attached are a couple news articles about MacMeda from 1964-65 that you might like for your files. Jack mentioned in one article that MacMeda started as a joke in Feb. 1962, but not sure if he was pulling the reporter's leg or not. I'm also re-sending a foto of my 45 yr old MacMeda teeshirt that Jack stenciled in May (or a bit earlier?) 1965 at the Cuyamaca Park Convention. I may have sent that foto a while back, but now have the date more exact.
Saludos,
Harry Marriner
Bogota, Colombia