Why would anyone brave cold and potentially dangerous surf, unpredictable currents, and stories of bull-shitting, man-eating sharks for abalone?
Strangely enough, ab divers spend an estimated $6,000,000 and $10,000,000 for abalone and at $100 per pound in places, we are talking a serious shellfish.  Presuming it's unlikely that all of the estimated 40,000 recreational abalone harvesters are quite simply crazy, there just might be some reasonable explanation for this madness.
Well, Craziness is Mac Meda's motto!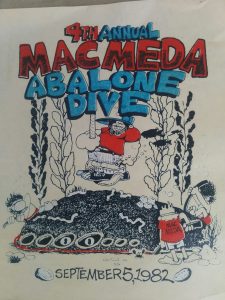 The giant snail inches its way across the rocks in relatively shallow water. Even so, diving for abalone has become one of California's most hazardous recreational activities, over 10 people a year die from ab diving.
But we forget, we have the craziness of Mac Meda Divers and not ONE diver lost his or her life diving for abs … but we did loose a skiff … right Pinky! But that's another Meda Post.
And back then, there was no year round ban on taking (or as they say now, harvesting) abalone as there currently is in Southern California.  To a Meda diver (years ago) snagging a few abs off of La Jolla's Bird Rock took about 30 minutes.
It all started in 1979 when Richard Krug of Costa Rica Fishing, organized the First Mac Meda Abalone Dive Contest. The winner (biggest Ab) got his name on a cool walnut plaque that flaunted a 10″ green ab.
It was a great excuse to party … get a bunch of boats, pack them with Meda people (who all had fishing licenses), get the top free divers (using tanks was pussyness), head to Point Loma, and start diving. Now the key loophole to this WAS, at the time the law read, "Only SIX abs per license … per day"
Hummm,  so if you had 50 people, that's 300 fricken abs, regardless of how many divers you had. So that is why we packed the boats!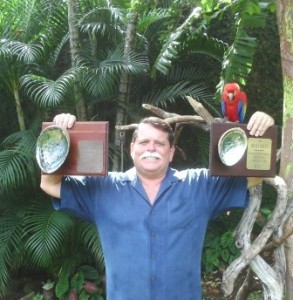 After filling the boats with piles of Abs, we would  have a huge Abalone party. Some of the spots picked were the Krug's house, CKs, and/or Eddies (now Cass Street Bar and Grill) where Meda Eaters would stuff their guts with ab dip and chowder, fried Abalone, wild rice, bread and salad and of course, drink and eat until you passed out, like the chick in the video…
And somehow, Krug seemed to win it the most so we knew it was rigged, but who fricken cared?
And for the cost of this event … a huge hangover and burping abs for the next few days!!
Mac Meda thanks Dean Burriston and Eber for these photos, and yes, we do love the Animals … cheers to Eric Burton!