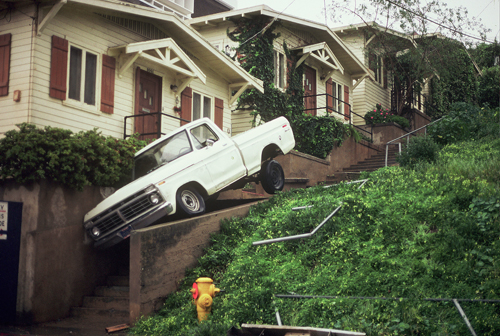 In downtown La Jolla at the intersection of Prospect and Girard Street there is a short cut; a  set of stairs, about 150 yards long,  8 feet wide that goes to South Coast Blvd. below. This cool short cut always came in handy when the cops or someone else was chasing you.
After the bars close,  Meda drivers would drive down the stairs in 4-wheel drives, and/or in the infamous VW Bug for a late night thrill. One such feat, in either Bill Phanner (RIP) or Dean Burriston bug,  after a Mister Todds wild ride down, stopped at the bottom at the shocking look of a elderly couple taking a early morning stroll.
Sandy Woods the passenger, calmly stuck his head out of the sunroof, and asked them very politely, "Did you call for a cab?"
Others were not so lucky …
Bruce (last name withheld to protect the guilty) after getting back from being out-of-town went on a Meda bender with a few of his buddies. Afterwards,  he thought he would take the Mister Todds wild ride … but he had a bit of excitement when reaching the bottom!
Needless to say, the tow truck driver and cops got a chuckle out of this one!
Photo by Brian Munoz