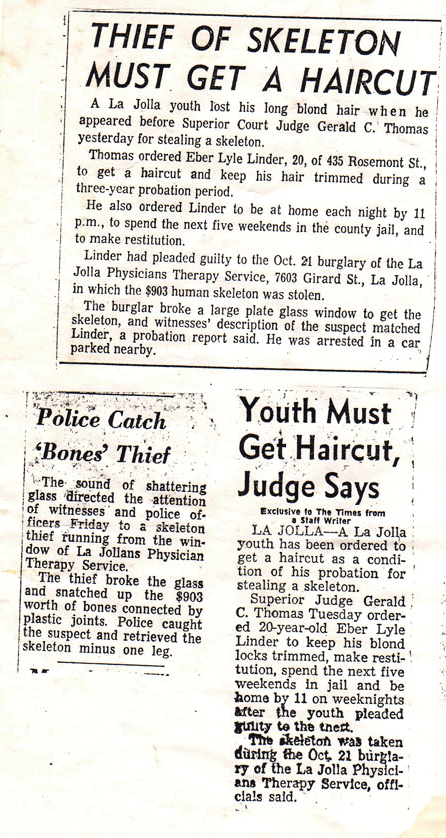 They say drinking alone is a sign of alcoholism, so if you are a Meda drinker, what do you do when you want to go on a roll and no one is around?
Interesting predicament, for someone who can not find anyone to drink with. It's not like he can pick up a cell or text someone. Remember we are talking late 1960s. Hummm … what to do?
Bingo! Eber had a good thought, why not get a drinking buddy?
And he knew the perfect spot to get on.  And that was when he broke into  La Jolla Physicians and Therapy office on Girard Street and stole their skeleton. Then after dragging it around he ran into a more livelier group, Skip Wolff, Lester Stoffen, Denny Moore and cruised with them. When the time came to end the evening and hit the sack, Eber explained he had to go get his drinking buddy first.
At the bewilder looks of the three, they dropped him off at the alley behind the old Ready Hardware store on Girard street and in the back was trash container where Eber temporary stashed his drinking buddy.
As Eber was pulling out his buddy, someone who had no sense of humor called the cops and they  busted him. Unfortunately,  Eber was bummed  not that he got busted, but very bummed when he realized his buddy had lost a leg; must have disappeared during their rousting about together.
It was said, Eber had tears over the dismemberment.
At trial the judge had no humor, hated the long hairs and ordered Eber to cut his hair. Needless to say, Eber was really bummed again.  Not because he had to cut his hair and  spend a few weekends in jail …
… but do you know how hard it is to find a bitchen buddy that will drink with you all night, very cheap, listens to what you have to say, and won't talk back!
Those type of friends are priceless!
Newspaper clippings supplied by Doug Moranville from the Branding Iron.