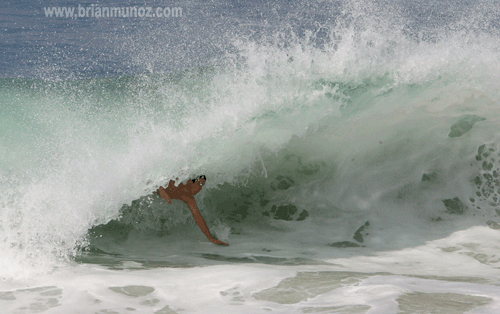 WindanSea's claim to fame was its surf.  Sea Lane and Marine Street's claim to fame is its wicked shore break otherwise known as 'whomp,' or what locals dubbed when you body surfed it, Bodywhomping. The term originated in the early 1960s at the three beaches due to the sound heard when the wave closed out over you like cupping your hands and a single loud " whomp" of  air rushed out due to the  heavy blow, slap or bang that the wave gives you.
Unlike body surfing where one puts on a pair of fins and rides waves for  x amount of distance … then gracefully kicks out after you have enjoyed your ride …then swim back to the break to catch another one, whomping has a stranger approach.
The true art, which takes a ton of skill of bodywhomping uses the wave's surge as its momentum … no fins are used! And the ride is for only a few seconds at best.
Fins become cumbersome when wading out and almost impossible to maintain balance after you have been thrown into a few inches of whirl pooling backwash of a wave.
First, you either are standing in chest or waist high water or treading water just a few feet from shore. Then name of the game is wait for a wave that will not close out (almost impossible) push off from the sand and/or take a few quick, yet powerful stokes and ride the wave for those few seconds. Your ending is most graceful, the body gets slammed into the sand or in a few inches of water with tons of water whirring around you like you are in a commercial washing machine.
If you have done the whomp good, your reward is a mouthful or noseful of sand.  So, unlike body surfing, days later you are still digging out sand from your ears. Fun? You bet!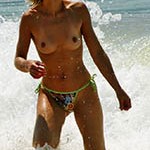 In other words, you get short, deep tube rides just before the waves hits the steep shelf that unloads onto the shore.
The key is very simple; time it so that your body rolls with the curl of the wave because you want that few inches of water to cushion your fall and if you don't you, well, you eat it.
Either way, it is dangerous. Serious injuries are common for those you do not know what they are doing.  Wrist and arm sprains and a few minor concussions here and there usually are the favorable ones along with many sandpapered body marks.   Others more serious can be broken arms, collar and necks … it is not for the novice and or girl with the string bikini. Many of women have walked out with arms crossing their necks as their tops gets sucked out into deep blue.
And I know I going to be getting some serious shit on this, but people like La Jollans Jim and Dennis Downie, and Rick Prouse were forefathers in whomping. All three become some of the first or the first to body surf/whomp the infamous Wedge.