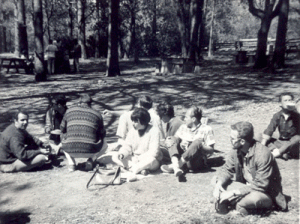 Conventions were a must for Mac Meda. In reality it was just a place to go, and either raise some hell, like the Mexico Convention or just kick back,  drink a ton of beers and socialize … as the boys from Animal House said, "Road Trip."
Nested in the north East of El Cajon or about 40 miles east of San Diego and by Julian is Cuyamaca State Park, the perfect Road Trip. In the 60s this public campground was usually known for its Boy Scout Jamborees, and that five day camping experience in Grade School where you got your parents permission slip, $40 tab, and for a week got to spend time with classmates, away from your parents.
Boys and girls were separated in their own cabins. Once "Lights Out" happened at 9pm, the counselors or teachers tip-toed from their responsibility got drunk and had lots of adult fun with other teachers.

The beautiful park offered, fishing, camping and hiking in an oak woodland forest, with a sprinkling of pines and lovely meadows with creeks at an elevation of 6.500-feet and on about 26,000 acres.  There was lots of party room.
It was nothing taking a pole  and fish for trout and bass  in the lake and surrounding streams with those red salmon eggs and worms.  No fishing permit was really needed (even if they were required)  or if caught, you always got to keep the fish and a verbal warning from the Park Ranger who welcomed a cold beer on hot days.
The park rangers (which amount to about 5) did not give a shit, drank with you and you pretty much had your way.  The only signs posted were ones pointing to other camp and trail spots. There was no camping fee, a couple of smelly restrooms, (which were rarely used) and you did not need a fire or picking up wood permit. There were no eco-nuts making sure you abide by the rules.
It was common to see others, like the Hells Angels rumbling in on their choppers and at times invited you to join them in a drunken orgy. In the late 1960, the Hippies discovered it and it became a place to take psychedelic drugs and trip out in the wilderness.
It was common to see one or two flower children wandering around "In the trees," and that is where the  slang words originated from or "Fucked up" and "On drugs."

For Jack and Company, a Cuyamaca Convention was pretty much an all day event that happened a couple of times a year. It started with the road trip early morning.