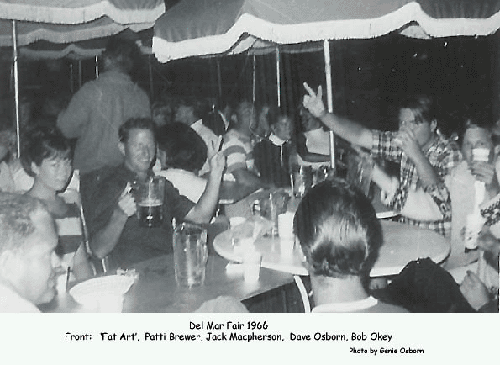 In 1880, a group of San Diegans organized an agricultural Fair to bring county farmers together to share ideas, see who had the best citrus fruit, who baked the best pie, and who had the fastest horse. By the 1930s, faced with fairs that struggled each year for survival, voters approved pari-mutuel racetrack betting to help fund the state's agricultural fairs. In 1936, the 22nd District Agricultural Association bought land at the mouth of the San Dieguito River for a county fairgrounds, and with that said, by 1984 it became one of the Nation's Largest Fairs. However …
… for Mac Meda, the prime reason to go was not the excitement of the crowds, the rides that made you puke (which was bitchen to some), the carneys hacking butt-ugly kube dolls or the freak show of a a 600-pound lady, a two-headed mummified cow or a sword swallower or the conventional displays of cheap gimmicks that you buy, but never worked the way the hacker demonstrated and the delight of gut-twisting junk food.
Oh yeah …  you guess it, it was time for 10 mile road trip from La Jolla's to Del Mar's famous Beer Gardens.
Back in the good ol' days, the Beer Gardens were right across from Don Diego's Tower. A cute white picket fence surrounded a grass lawn with metal tables, chairs with tacky umbrellas that provided shade and supposedly a quiet time for an adult to have an ice cold beer that was fairly cheap, a $1 would get you a 16 ounce pour.
Did I say quiet time?
My mistake. And who cared about an umbrella at night. Well, the umbrella served a very important role during night; it helped hide the underage drinker and provided a shield for some extra activity that kept one pounding beers down. Hummm, wonder what that was?
The Beer Gardens became very popular with Mac Meda almost the day they opened. A great way to spend a Friday or Saturday night that many times ended up with a few fights, loud behavior and a ton of underage drinkers. They never or rarely checked IDs. If you looked 21, you were in. And besides, who is going to check IDs when there is money to be made.
During those weeks of fair festivities, it became the general meeting place for La Jolla's beach crowd.
Beside Jack and his company, others that were known to have a good time was the Shores/Sea Lane group like Bill Canning, Beachball, Skip Wolff, Billy Humes and Steve Wyre etc etc …
… but we will get into this groups later, and one of the reasons,  Del Mar almost closed down the Beer Gardens.