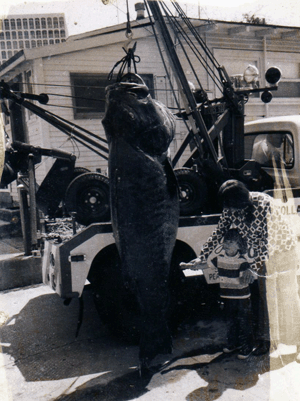 Nowadays if you did something "Bitchen" like catch a huge fish well, most would take a digital photo, upload it on the internet and sent it to all their friends, and of course have bragging rights for the next zillion years.
But, what if that fish was a huge   628lb Black Sea Bass – and back in the 1960s  things were different, like, legal to catch Black Sea Bass,  no internet, computers etc. And of course, getting photos developed took about a week and there were only a couple of places to do this.
So, if you were fishermen, Donnie Tomlinson, and spend over an hour hand-pulling his nets in, and discovered this monster of a Black Sea Bass off of La Jolla Cove in your net, what do you do when you are in a 16′ wooden skiff?
In Donnie's case, he almost had to semi-sink his skiff to manhandle the fish into it. Then it was a very slow 3-5 knot cruise to Mission Bay where he almost sunk his boat several times as waves crashed over the rails because the skiff was riding very low in the water due to the weight.
Now, the next question, "How in this @#$% beast of a fish out?" Even for Donnie (who was a very strong and big person) that's a lot of dead weight to lift!
Hummm … Donnie's had a brilliant idea, he called a local towing company. With that said, they hooked the fish up and proceeded to cruise Pacific Beach, La Jolla and WindanSea claiming bragging rights to this Black Sea Bass.
It is believed, this is the largest Black Sea Bass ever caught off the California Coast.
Meda Editors Note: The Black Sea Bass NOW is a protected species and even back then one of this size was VERY rare. Fishermen are required by law nowadays to release them. However, back in August, 2009, a diver from the Scripps Institution of Oceanography in La Jolla spotted a 125-pound black sea bass floating on the ocean's surface near Scripps Pier.
Researchers recovered the fish and found a hook and fishing line attached to its mouth. They believe an angler accidentally caught the sea bass and released it, and that the trauma killed it.
State officials allowed Scripps to keep the sea bass for its collection of marine vertebrates. A Scripps spokesman said acquisition of a local black sea bass is rare and offers scientists an opportunity to learn more about this once-plentiful resident of the La Jolla kelp forest.