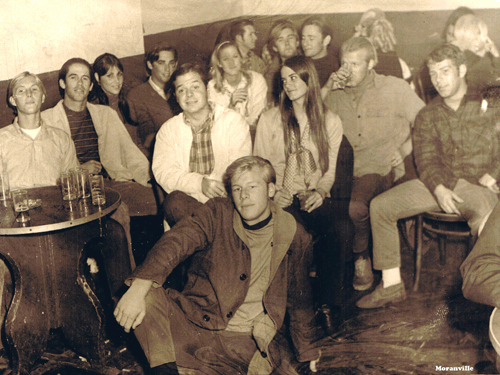 If you Google search Long Bar, the first three pages are filled with some historic Old Town Irvine bar called Tia Juana's Long Bar and Grill. The website hypes that you sit under the brightly colored banners, sipping Tia Juana's famous hand-shaken Margaritas, and eating the freshly made tortillas and salsa.
Now check this out, it says it restores the fun and excitement of the famous Long Bar in Tijuana. And you feel you have been transported across the border to rub elbows and share the excitement with 30's & 40's Hollywood's elite.
Hummm… uh …  I don't think so!
Well that may have been a tad true during 1920s when prohibition forced the wealthy Americans and Hollywood celebrities flocking to Tijuana to partake in legal drinking and gambling. It was during this time that several impressive casinos and bars were established to cater to the demand for alcohol. During this time was when the famous Agua Calientes opened its doors.  The original grandstand structures were destroyed by fire in 1971, but rebuild a few years later with only greyhound racing. But not in the 60s or 70s and  never did the Long Bar cater to the rich and famous … it was always a local and very down to earth shit-kicking bar.
Who every wrote that fricken review ought to be tied down,  forced to drink the flat and semi-warm beer that sometimes had a green appearance, and the bootleg tequila the real Long  Bar used to serve. The only food served was some street vendor's taco stand that only a concrete stomach could handle…
Call it how you see it, but TJ was the spot to sinfully drink and it is impossible to even try and mimic the real Long Bar.  There was no strutting of fancy dress like that BS disco attire, but jeans and clothes you really did not care if they got dirty or not. And yes, after an long evening of combat drinking and raising hell, you smelled of stale beers, dirt/sawdust, pee, cheap cologne that you got from some weasel of guy in the restroom, and a few things that your would never even whisper within a nun sighting.
It was not a place to come home from if you were still living with mommy and daddy. Clothes were known to be in the trash after a good night in TJ.
Meda crowds of 10 or more crammed around tiny tables, etched in initials, drank pitchers of beers and with every shot of very cheap tequila, got increasing boisterous and rowdy. Because after getting primed at the Long Bar it was down the street and around a corner some sleazy and very sinful nightclub awaited. If things got a bit out of hand … many got introduced to the infamous TJ Jail, a place worse than hell and reserved for another Meda tale.