Now, ole Mac Meda was a powerful man,
Who could smash down a house with the palm of his hand;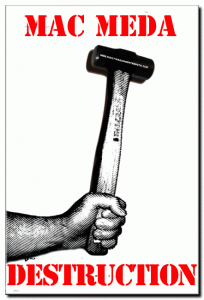 He formed a company of destroying fools,
Big Sledgehammers were his favorite tools.
They started out breaking just a house here and there,
Smash out the windows and let in some air;
Knock out the walls and give a few heaves,
And there would be nothing left beneath the eaves.
They broke a filling station, used a truck as a lever,
What Mac Meda broke, stayed broken forever;
They broke a jetliner on the way to a job,
No plane built could carry a Mac Meda's mob.
Mac Meda became the king of wrecking and breaking,
But he stepped out of bounds on his last undertaking;
They hired a Mac Meda to destroy a bank,
He brought three bulldozers and a Patton tank.
Each one rode in through a different wall,
Whne they met in the middle, it made the building fall;
They got so stoked by the crushing sound,
Mac Meda went out and destroyed the rest of the town.
Little old ladies and big thick men,
Ran for the hills as houses caved in;
They destroyed the courtroom and the Jr. Hi School
They abandoned the tank in the swimming pool.
Then Mac Meda gang had to run for the hills,
With nothing less to eat but Benzedrine pills;
The police rode hard on Mac Meda tracks,
Swearing they would bring this scoundrel back.
How the avalanche started that wiped out the fuzz,
In anyone knows, I'll bet Mac Meda does;
Now Mac Meda gang just sits drinking gin,
Just waiting for their chance to destroy again.
Jack Macpherson
Charlie Farley
Meda Editors Note: The poem was written somewhere between 1962-1964.  Many assume that  Charlie Farley is responsible for the 'benzedrine pills' part, as Mac hated drugs of any kind … he was definitely a beer guy…with a few Bloody Marys on Sunday morning. Charlie Farley passed away recently