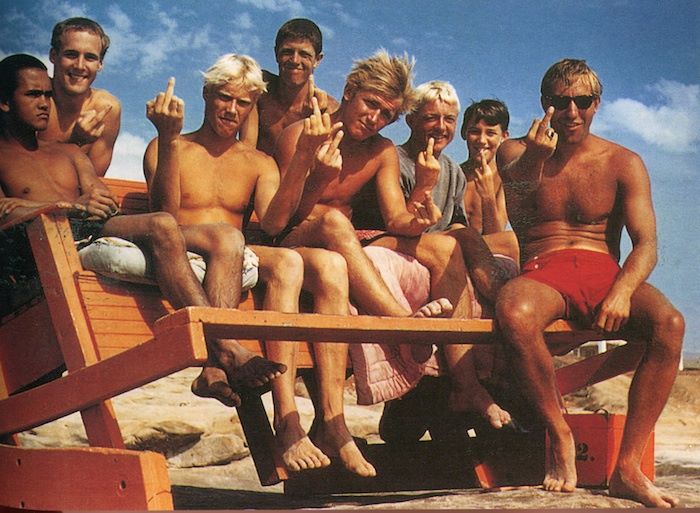 From "Remembering Butch: The Butch Van Artsdalen Story" by Douglas Cavanaugh:
GREG NOLL–
"It was as if someone moved Bellvue Psychiatric Hospital to the beach and turned the inmates loose there at WindanSea. I remember filming there and Tiny Brain Thomas was getting rolled down the cliff in a metal trashcan. Then there was this huge pie fight. They had hijacked a pie truck, wiped it out and the next thing you know there was like twenty guys slinging pies at each other.
I think my first recollection of Butch is of him with all this lemon meringue pie dripping off his chin. They were the worst f**k-ups on the coast, absolutely no question about it."
BUD BROWNE–
"I first met Butch in La Jolla. He was one of a gang of rascals at WindanSea who never knew a dull moment, always playing jokes on people and having a great time- Tiny Brain Thomas, Mike Diffenderfer, a guy they called "Lizard", Del Cannon, Pat Curren…they were always into some kind of trouble."
MIKE DOYLE–
"They were the big wave riders of the surfing party-world. They drank just like they rode waves- with 100% commitment to go all the way. That's probably why I didn't hang out there that often. I couldn't keep up with guys like Butch and the way they were always going full speed, rain or shine."
CHUCK HASLEY–
"No matter where we went, we were always the ones having the most fun. We never went to a place expecting it to be fun for us. We BROUGHT the fun with us. We'd get drunk and things would get pretty crazy. Sometimes some hodaddy who happened to be down there would pick a fight with Butch or Wayne Land and end up regretting it. I think we were at just about every bar that closed down in Tijuana on the night things would go over the top and it would get shuttered by the authorities. We usually got out of there before they could arrest people, which they always did and for any reason.
The party never stopped with us, though. I remember driving back home after a weekend there with Butch, Al Nelson and Pat Shea and we were drinking shots of Everclear [pure grain alcohol, now illegal in California] and chasing it with shots of tequila. Crazy."
BILLY GRAHAM–
"A bunch of us got out of a car in Mexico that didn't make it. I said to Fleet Nelson, who was the driver, 'You gonna just leave it here where it can get stolen?' He says 'Don't worry about that. I got protection' and he opens up his trunk. Inside he's got a gunny sack and there's rattlesnakes in it (he was kind of an amateur snake collector). I was pissed, so I said 'I've been in this car all this time and you've had rattlesnakes?!'
Then he turns them loose in the car. I said 'Do you really wanna do that?' He says 'If anybody wants to screw with the car they're gonna get it.'
Somehow we managed to secure another car and this time Danny Prall is driving, I'm shotgun and Curren is behind me. We were totally trashed and driving erratic. Cars are going off the road trying to avoid us. I have no idea exactly how it happened, but we managed to roll the car right down an embankment. I couldn't lift my head up because the roof of the car was level with the hood.
I somehow got out and I looked up and here's all these people lined up along the top of the embankment shaking their fists. So I start to climb up and right when I get to the top:
POW!- Somebody hits me and I roll right back down the hill.
I climb back up:
POW! Down I go again. I guess I wore somebody's fist out cuz eventually I climbed back up and nobody hit me.
I'm standing there and this guy walks up, pulls a gun and sticks it right in my face. There's a silence for a few long seconds and then Danny Prall goes 'Hit him, Graham. He ain't gonna shoot.' To this day I remember what the sound of the hammer is like on a .38 pistol double-clicking. I looked down the barrel and actually saw the bullet that was gonna come out and end my life.
Somehow we talked our way out of that one. Curren said later 'I've never seen your eyes cross like that before.' "
MIKE WILSON–
"The crazy thing about having grown up in the atmosphere of a place like WindanSea is that I thought that this was all perfectly normal behavior. Being around it all the time made me think that everyone acted like this and that it was nothing unusual. You got used to it because it's your daily reality. It's when you get a little older and venture outside of the realm that you realize how truly nutty your 'daily reality' has been.