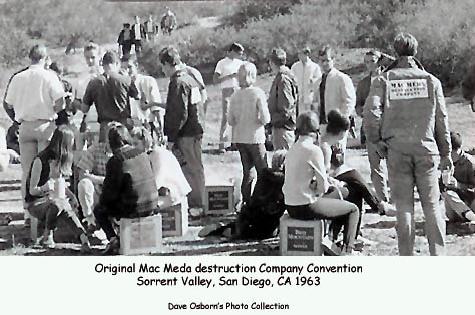 A Los Angeles Times reporter once wrote, " … drunken beer orgies and wild women" when referring to a Mac Meda Convention.
No doubt, Mac Meda perfected the keg party, if not invented it.  And the greatest technical advancement to the keg party was the invention of the plastic trash can. Lightweight, somewhat strong, could hold a keg perfect and most important; it provided the right size container to pack about 100lbs of ice to keep the keg cold on a hot Sorrento or Carmel Valley or WindanSea day.
When plastic trash cans started disappearing around La Jolla, the town knew Mac Meda was getting ready to have a Convention. It was Mac Meda's lingo for a keg party and one that started to get Mac Meda their wild and debaucherous reputation.
Pacific Beach's Chips Liquor or La Jolla's Dicks Liquor or The Liquor Box once they heard a Convention was being planned, stocked up on their kegs. At the time, a keg of beer cost, $40, with a $15 deposit for the keg.
What separated Mac Meda keg parties, sorry Conventions, from all other keggers was very simple Meda mentality or logic. It was not how many people were coming … but how many kegs were ordered.  In other words, the number of kegs, determined the number of people. Hummm! Here is a typical conversation on the next Convention.
Meda #1: "Convention, Carmel,  Sunday."
Meda #2: "Kegs?"
Meda #1: "Eight."
Meda #2: "Bitchen!"
The keg tap or pump was rarely rented, that's because most Mac Meda Convention organizers already have a few stored in the trunks or underneath the seats of their cars for those sudden beach keggers or like what Butch Van Artsdalen did one time.
The concept was simple. Get a few kegs of beer and several hundred Dixie cups, find a nice quite location, charge $1 for all the beer you could drink, and just do it! Word of a Mac Meda Convention spread faster than the clap in a whorehouse.
And screw all those that frowned at such rakishness behavior, including the cops who would spend a God-amount of time searching for where the next Convention was being held.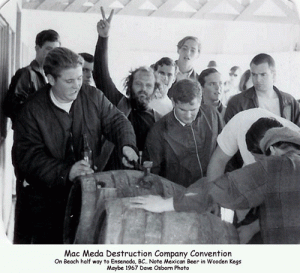 Sometimes a mini Mac Meda Conventions were held in Mexico,  and eventually became what Macpherson called, "Summer Camp" which is a whole new category on its own.  Others were held in Sorrento Valley but finally to  the back country of Carmel Valley, with their big annual one on the 4th of July, which was held either at  La Jolla's  WindanSea, Sea Lane and/or the Pumphouse beach.
Back in the 60s and early 70s Sorrento Valley was the back country. Take the Carmel Valley road turnoff off Interstate 5 in Del Mar and head east.
Turn left at the T (later a Dennys was built, which made a perfect landmark and a place to sober up at) and take the first right  … follow the road (or just follow the cars) pass Rosendo's Hideaway to the split in the road. Take the right on the dirt road until one got to a straight road lined with Eucalyptus trees. It was that section one would looked for the rundown gate that looked like it was the turnoff for Grand Central Station.
This was the entrances to Browns Ranch and the legend grinds into second gear.