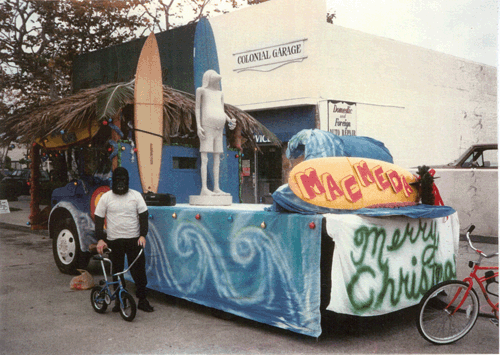 Usually on the first Sunday in December La Jolla's Town Council puts on the Christmas Parade.  The parade begins at Girard Avenue in downtown La Jolla at 2 p.m. and finishes at Prospect near the La Jolla Recreation Center and ends with Christmas Tree Lighting at the Rec center.
The La Jolla Christmas Parade attracts about 15,000 people that line the sidewalks.  Some 1,200 people, from all over San Diego, take part in parade, whether in the marching bands, drill teams, scout troops or among the dancers, float builders, equestrians, car aficionados, politicos or promoters. In addition to the parade, YMCA's Holiday Festival, a street fair along Silverado Street with arts, crafts, food for sale and entertainment, helps make this a great event for the La Jolla community.
Obviously, Mac Meda loved to to celebrate this awesome event (by keeping the Christ in Christmas, not f@#&ing Holiday Parade as many want it to be)  and for a few years entered a float. The float was simple, representing what La Jolla was made of – beach, sun, surfing, and of course,  drinking as many beers as one can!
A Windansea shack decor tow truck had the honors of carrying  Mac Meda boys and girls, Hot Curl, surfboards, and with Albert riding a bike in front…
However, the elite (or stuck up) group  that organize the parade got wind of  what Mac Meda represented, and when Jack was about to fill in the application (around late 1960s or early 1970s) …  it was rejected.
Reason: Not Family Material!  … and  was banned for future entries … hummm sorta bias I'd say!

Some people just have no sense of humor!
So Jack for years after, entered the parade by himself, rode a small bike and gave out candy to the kids.
However, nowadays, some floats do manage to rebelliously sneak in a few Mac Meda decals (an RF to the stuck-up) …
… and carry Hot Curl …  Hoorah!