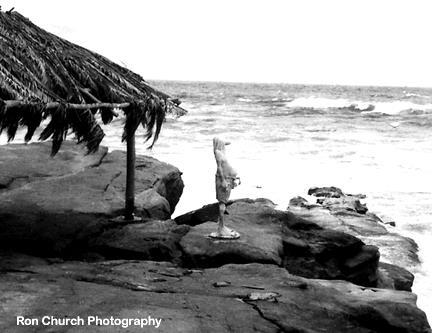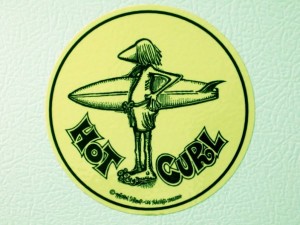 The story of Hot Curl first starts like this: Hot Curl was a cartoon character created in 1963 by Michael Dormer and Lee Teacher.
In 1963, Dormer and his friend, Lee Teacher, sculpted Hot Curl, a 400-pound concrete  statue, and installed it on the rocks near the surf shack at La Jolla's famed Windansea Beach in San Diego, California.
The sculpture of a mop-haired, 6-foot tall, knobby-kneed surfer gazed out at the sea with a beer in his hand.
The pot-bellied surf god quickly became a nationwide sensation appearing in SurfToons comics and as a plastic model kit, selling hundreds of thousands of copies.
In 1964, Hot Curl became a movie star, appearing  in Muscle Beach Party (1964), a cult classic starring Frankie Avalon, Annette Funicello, Buddy Hackett, Don Rickles, and Morey Amsterdam, among others, and featuring the first film appearance of "Little" Stevie Wonder.
Well, lets read between the lines on this story; it was not all that easy for Hot Curl to get his claim to fame. At first, Hot Curl was threatened by the City of San Diego when they wanted it removed. They called it unappropriated for the community. You know the morality issue. Then they added,  "It was built and installed without proper building permits," –  the typical excuse, bureaucrat BS.
So how did Mike's cartoon character get its fame?
Well, you can thank La Jollans, surfers, beach goers, Mac Meda,  and activists when they revolted, protested, and organized a "Save Hot Curl,"  campaign. Remember, this was the start of the 1960s, a time of cultural change and protests.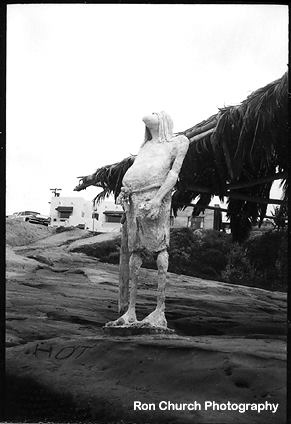 The protest drew nation wide attention and was featured in surfing and underground publication and even the conservative San Diego Union questioned the city's BS.  Finally the city caved in, made some stipulations (like adding a good concrete base etc) and Hot Curl was allow to flaunt his beer guzzling pot belly at Windansea.
Gee, thank guys!
Unfortunately, Hot Curl became the victim of vandals (Mac Meda put out a contract to find the perpetrator(s) or else) and later,  it was finally destroyed by a large surf day. For a long time, just the concrete base with a couple of bars of rebar was the only remembrance of the revered icon.
However,  Mac Meda did not let it rest and was the first to flaunt a replica (believed to be from one of the movies) of the surfing icon (before La Jolla Parade organizers banned their entry) during the La Jolla Christmas Parade, which it continues to this day rides proud on floats that support WindanSea.