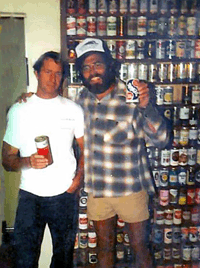 Dave Osborn comment on the Brown Derby post was correct. Jack Macpherson was one of the first people to start collecting beer cans. Frankly I believe he idolized his favorite organization, the Brewery Collectibles Club of America (BCCA).
With the early 1935 introduction of the first U.S. beer can by the Krueger Brewing Co., that was generally available to the public, there were a number of persons who had fun collecting the "new" beer cans with often colorful labels printed on the metal container rather than having an attached paper label.
When Jack died, I believe (and please correct me) that Dave Osborn and a couple of cool people  went to Jacks house and got Jack's collection, which to this day is very extensive. It was pretty clear that there were many who wanted the collection.
And now is in a safe location. Sorry, us editors will keep our keyboard clean on this  secret that is guarded as well as the whereabouts of Jimmy Hoffa's body.
The BCCA  is a non-profit Organization for those individuals who collect beer cans, breweriana or who just have an interest in beer, brewing and/or brewery history.
Jack and other Meda beer can experts used to go to BCCA annual conventions where some were held in La Vegas …  a bitchen road trip to see what heaven was really made of.