I was sent a w, and even if it is a bit before Mac Media, it is a classic of what La Jolla was in the late 1940s and set the foundation for the craziness and bizarre times of the 1960s and 70s.
Thanks, for the Tommy Carroll,  many of you would have forgotten the 40's. These are the people who laid the groundwork for the surfing, diving, fishing and let's not forget partying. When it came to crazy shit they are at the top of the class … all were legends in their own time.  But, most of them went to work, got married, and had kids.
Many will recognize the dads and moms of their friends and people they past forgotten about. No doubt this will spark some fond memories of the way La Jolla was back then.
Classic photos of La Jolla High School being built,  La Jolla Cove, a few shots of Gunnery Training at Bird Rock (rare photos) Ocean Beach pier, Pacific Beach's dirt streets, WindanSea and some of the luaus that later become Mac Meda Conventions, summer at the beach, lifeguards, the Plunge, La Jolla High football team and cheerleaders, football team and the few buildings  La Jolla Beach and Tennis Club had, with no homes in the background.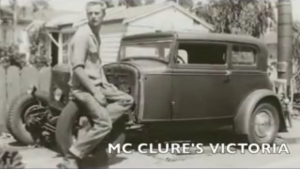 People like Woodie Ekstron, Pat Curren, Mike Doyle,  Buddy Hull, Phil Prather, Jack Lucas, Maynard Heatherly, and the beautiful actress Rachael Welch poising at WindanSea shack, all shared the tiny beach town of La Jolla.
Check out how peaceful the tiny beach town of La Jolla was and the first major development in La Jolla, Torry Pines.
The surrounding hills that are not littered with estates and mansions, but just beach cottages.
Enjoy the 20 minute video  – if this does not bring back some cool memories to some, I don't know what will.