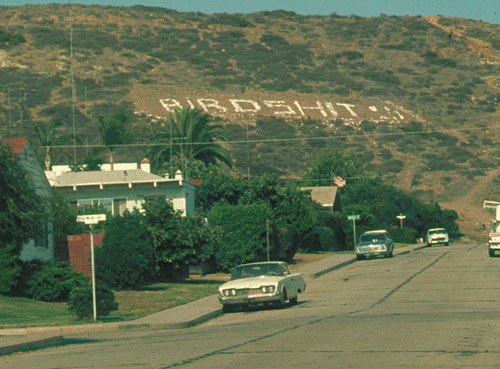 La Jolla was divided into several territories. You had the Shores, downtown La Jolla, Soladad, but none stand out better than Bird Rock. In the old days, living in Bird Rock, you were considered in the outskirts of La Jolla. Its boundary was west of  La Jolla Mesa Drive, south to Turquoise and north to Via De Norta and east to the hill. And to Mac Meda it was known for its two major  watering holes Red Mountain Inn, and Sip n Surf, and to restaurants like Bullies and Ocean Fresh. It was also Jack McPherson's mail route.
Obviously it was named after the large rock that nested just about every sea gull and pelican in La Jolla. But Bird Rock got its claim to fame in La Jolla/Meda history because of its Hollywood-like-sign that was carved into the hill overlooking the ocean. For years it was Bird Rocks identity, a symbol of the tiny community within La Jolla before developers, and community leaders thought it should be removed and censured forever.
Don't really know who built it or what year (maybe someone can share some light), but in the early days its upkeep was ongoing by local organization like the Boy Scouts and concerned  volunteers who wanted Bird Rock to have its own character – a separation from church and state so to say.
Weather and time play a major roll rearranging the white washed rocks and weeds and scrub brush was always being cleared out. And of course pranksters would alway rearranging the letters, and as the photo shows, a more appropriate description of the bird nesting rock that continues to this day looking more like a snow capped mountain.