If there was a bar designed for Mac Meda, the infamous Dave Osborn's Red Mountain Inn would win hands down.  It was named after the screw-top, rot-gut wine, Red Mountain, which was a must if you wanted to get drunk and had little money, because it was $1.50 for a gallon.
With that said, it seemed logical that the Red Mountain Inn became Mac Meda Destruction Co. Official Headquarters!
The bar opened in 1966 at 5525  La Jolla Blvd in Bird Rock. Opening day over 17 kegs of beer was consumed.
The original bartenders were Jack Macpherson, Rick "Ricky Rocket" Johnson, Mike Wilson, Dave Schrader and later Reggie Hasley and Ron "Anchovy" Barca joined to help with the overflow of thirsty and fanatical customers.
You ordered by the pitcher or two. Drinking one beer was unheard of. If you tried to order ONE beer the bartender stared you down.  And chances are you would get eighty-sixed for being a fagot!
Friday and Saturday nights were standing room only. Cigarette smoke would bellow between the crack of the front door, and almost knock you down when opening it. A passerby could get drunk just by looking at the place from across the street.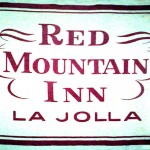 Red Mountain had a band that drummed out enough rock to make your ears ring for the next few days. At first, Cookie Taylor was the singer, and leader of the  band (see him in slide-show) and then ran dinner food specials for a while until he become the head cook at Bully's down the street.
Stories were wild, people that drank there were crazy with one thing in mind, getting shit faced and having a good time. Its customers were all types, bikers (notice the Hell Angels and Iron Horsemen in the photos, before they become hated rivals), surfers, jocks, long hairs, girls, drunks, idiots, dirtbags, and just plain people who wanted to let their hair down.
One night the cops raided the place for underage drinkers. And the ONLY person they took to jail was Jack Wilhelm, who forgot his ID that showed he was 21 at the time. In other words, if you looked 21, or had a ID (regardless of whose picture was on it) that said, you were 21, you were in …
Across the street (or within stumbling/falling down distance) was the Sip n Surf (or Hungry Horse depending on who owned it at the time) that served hard booze. And heading north a few doors was the White Whale, a hippy bar where pot and incense bellowed out as strong as the cigarettes smoke did at the Red Mountain.
Clear-Light acid and Mescaline was passed out like candy.  The Make Love, Not War was exercised to the fullest … even a blind man could get his rocks off there.
Bird Rock was a great spot. Beer, booze, pot, and end the evening by getting laid – and all within 50 yards. And farther down, on Cass street, was the "Touch of Class" a 24hr massage parlor … that did more then massages 😉
Oh my – it didn't get much better!
Special thanks to David Osborn for supplying the historical content and photos.