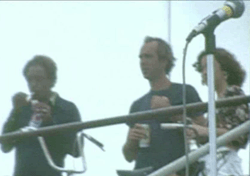 If there was ever a man that could defied the massive consumption of alcohol and chemicals it was Little John Sylvada. He would have been a medical sensation on any autopsy table. His morning consisted of pouring his first wine cooler at 4am, taking a 1-2 hour nap at 12, and after, getting into the beers and hard booze until he passed out between 7pm and 8pm. This was his 24/7 MO for almost all his adult years.
He was a good carpenter by trade, and after a few beers would climb to the roof, bend over the rafters and cut tails to hang Fascia Board. He never fell. He liked working high (pun intended).
Little John was one of the coolest people, loved by all and had that sparkled humor. When his mom moved out on the Sea Lane St house, Little John stayed.  For a while Beachball and he were roommates, but Beachball  lived in the garage. When he moved out, Little John's  motor-mouth brother Fred (RIP) moved in. The Sylvada brothers came from different ends of the spectrum. Fred was unique with many ex's. (husband, cop, hippy, dealer, carpenter, writer, fishermen, boat owner etc) and could talk more BS than any politician.   Little John would give you the shirt off his back and his general behavior, he did not give a shit! He was the perfect example of living life to the fullest.
When very buzzed, Little John would cock his head, his bloodshot eyes (he had the best set) would roll back and  sloppily raise his drink, and scream between his teeth,  Eeeeeee!, maybe it was his own version of Meda, meaning, "Neeeeed another cocktail!
His common dress was collar shirt, with either jeans or shorts, with either tennis shoes or penny loafers. And no, he did not put a penny wedged in the top. He had this tad of feminine; he always  sway his drink in one hand, cigarette in another and juggle the two in one hand if he was in tow with his huge Great Dane, Conrad. Conrad's, best friend was a blind dog dubbed Fog Dog" that has a mix of Wolf and Shetland, all three were a sight to see when he would take them to Sea Lane. Conrad ruled Sea Lane and dogs would run seeing this 200lb dog flying down the beach chasing seagulls or anything that threatened his territory.
Those little shitty lap dogs, Conrad always targeted and ran them off the beach.
The house on Sea Lane became infamous when Little John put together the annual  Tequila Sunrise Services, a Meda drinking ceremonial that started with blenders echoing the neighborhood at 6am on Easter Day. It was not unusual to have cars parked out front an hour before sunrise from all-nighters who needed that last place to party.  The front lawn becomes packed by 7am and by 8am the neighbors were begging for an end and  afraid to call the cops.
One time Eber walked up late wearing a set of funky bunny ears. Dean Burristion, cried, "Look, it's the Eber Bunny!" and the crowd went into a drunken hysterical laughter!
After escaping substance abuse a few times where he ended up in the hospital, his body just had enough, Little John finally died in late 2008.
All I can say, he is one of many we will miss …