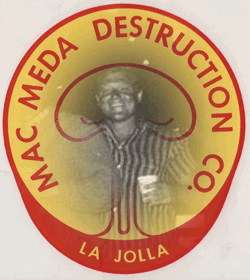 Robert "Bob" Norris Rakestraw (or aka, the  Meda in Mac Meda) was born a Fergurson in Nova Scotia, Canada on December 8, 1940. He was adopted by famed Scripps Oceanography Dr. Norris and Hazel Rakestraw about eight years later.
Norris was the number two man at Scripps and a renowned expert on marine chemistry. He died in 1982 in Morongo Valley, where they retired.
In 1952,  Scripps Estates Associates (SEA) was the first subdivision in San Diego to ignore the local real estate covenants and sell property to people by lottery. Norris and Hazel both entered and Hazel got the first draw of the San Diego's first Lottery.  So they bought the first lot (about 1.5 acres) for $2200, which was overlooking the Shores. According to a memorial, a Hazel Rakestraw died from Alzheimer's Disease around 1984.
There was another son,  Doug who was a Rhodes Scholar and pretty much disowned Bob.  When people asked about his parents, Bob always avoided the question. Every once in a blue moon and when he was real drunk, he would get into some sort of melancholic state, and mumble that he has not  talked to his brother since he was about 14 years old. However, he would talk to his parents a couple of times a month.
Little is known of why the adoption, either his real parents were killed or some say, he was an abused child and came from alcoholic parents, where he ended up in a child service program. This could have been the reason why Rakestraw had this destructiveness, an inside anger that he never got over.
The inheritances of alcoholism and anger would eventually lead to his early and very lonely death in a trailer in Morongo Valley (not far from his adopted parents house and where his dad died)  on September 21, 1996 at 56.
His hostility was so bad, his adopted, very straight arrow and Christian values parents paid the black sheep of the family to move out, when he was only 16. However, his adoptive parents continued their best to make him a respected citizen of the community.  The doctor got Bob a job on one of the Scripps research boats, which later on, Bob got a job on a fishing boat, and then became a merchant marine, which was Bob's line of  work/income and one that he hated to do!
It was his seamanship days where he developed his own bastardization of a cuss word that he became infamous known for, "Meda."

For the next fours years he pretty much drifted around and just appeared around the beach area. A La Jolla teacher said, "He had little or zero friends, and always was a quiet person who sat in the back of the class. But you knew he had a chip on his shoulder that was itching to get out."
At an early age, Rakestraw discovered he loved alcohol and had already gained a reputation of drinking and being crazy about it.  And by 17, he could just about drink anyone under the table. Bar owners like Maynard Heatherly clinched when Rakestraw entered the bar, knowing he was not 21 and would still allow him to drink.   Maynard's regular warnings to his  bartenders were, "That boy [Rakestraw] is nuts, give him what he wants, otherwise he might do something scary …  like ram his car through the front door."
Since the beginning, his destructiveness was getting a reputation. One time he crashed his brand new T-Bird his adoptive parents had given him. He blamed the accident on a little known kid by the name of Fleet Nelson (whose grandfather was the famed aviation pioneer Reuben H. Fleet, who founded the U.S. Air Mail service and had the museum named after him). His fascination with destroying cars (or anything for that matter) lead to the La Jolla Demolition Derby and to the thrill of Jack, Rakestraw and others pushing cars off of La Jolla's Torry Pines cliff.
Eventually this became an psychological crazed addiction that lead to explosives and heavy weapon usage to destroy.
Both Rakestraw and Macpherson were natural born athletes, even if Rakestraw height was only 5'4, and weight about 190 and was built like a fireplug he had the natural strength to prove it. He liked to show off by carrying two kegs, one on each shoulder.
The passion of lifting weights and drinking is what brought Rakestraw to Jack McPherson or vice-versa. They met in a gym and later they went to a bar. When Rakestraw powered down a pitcher of beer, and rammed his head against the wall, Jack was impressed and told him so.
It was probably the first time in Bob's life that anyone gave him a compliment.
Jack always had a passion for taking in rejects or the unwanted so to say, openly welcomed Rakestraw into his house on Girard Street.  And of course anyone that could power down a pitcher and smash their head in a wall, still stand, and had this strange fascination for a gorilla, named Albert, had to be a cool person.
Jack was the first real friend and family in Rakestraw's life. And the first time Rakestraw felt wanted. With that said, a bizarre bond developed,  which set the the stage for Mac Meda Destruction Company.
Mac Meda Editors Note: Mucho thanks to people like, Jamie Nay, David Osborn, San Diego Magazine, Eber, Doug Moranville,  Chris Hendricks, Eric Masterson and many others who have and are helping me put together these factual posts on Rakestraw.