In the Florida Keys, each night around two hours before sunset masses of people flock to the water's edge to experience a soul-soothing, gorgeous, spiritual happening to play homage to the sun as it sank into the Gulf of Mexico. Vendors set up little trinkets shops and  performing artists like jugglers, animal acts, high-wire artists, acrobats, and fire-eaters all began working for tips.  The worshiping finally ends  with the mesmerizing ohs and aws of the circus event when the Green Flash concluded.
Okay … thank God, this did not filter to WindanSea.
At WindanSea, there was none of this spiritual BS (but there were a bunch of clowns)  sunsets were taken for granted; it just another end of a day where locals headed to the Liquor Box or Dick's Liquor. For  under  $1  you got a 2-pack of Coors (.50), pack of cigarettes (.25) and a bag of chips (.10). If you plan to be there longer then an hour, and were cheap (right Lebos), did not smoke, or just ate,  $2 got you  two 6-packs of Brown Derby.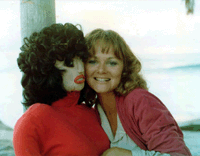 And then armed with sunset material  headed to WindanSea to shoot the shit with their friends and to find out the local gossip, like who got busted this week, how big was that White Sea Bass, and what fucking asshole was selling the dirt weed?
It was a time in the day where the beaches social networking was at its best. If a Convention or party was brewing, this is where it spread faster than the clap in a whorehouse.
Everyone had a bathing suit. Changing in cars or outside put Superman's phone booth act to shame. It was common to take a drip in the water and/or do some early evening body whomping.
Green Flashes occurred almost daily (air was a lot cleaner back then) and no big deal, except some were just bigger than others … just depended on how much smog had filtered down from LA or came screaming in during a Santa Ana.
WindanSea's A-team held up the wall,  stairs somehow held the people, the parking lot was overfilled with surfers, drunks and those beach bums who had nowhere else to go.
On a Saturday or Sunday late afternoon it became traffic jam that mimic a miniature Sunset Blvd.