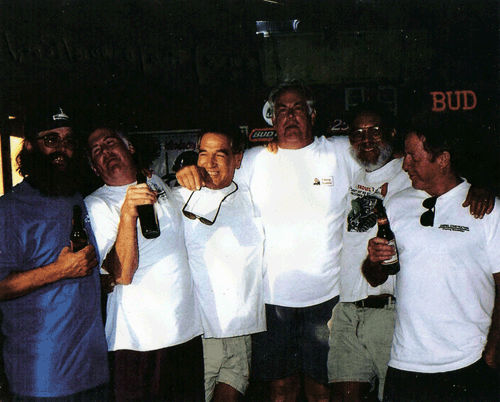 Now if this is not a great photo of lobster fisherman extraordinaire Donnie Tomlinson towering in this  classic pose taken at the West End bar that  borders (or no mans land) La Jolla and Pacific Beach –  many moons ago (around 1995).
Donnie's got the look of, "Don't screw with me or my buddies!"  And Eber, he is just having a hard time seeing. And Jack, it looks like he is trying to figure out whose belly is bigger?
What a great group of  guys that have been friends for a long time, enjoying a few cold ones and just having fun.
L to R – Peter Bergstrom, Eber Linder,  'Tito" Rodriguez (RIP), Donnie Tomlinson (RIP), Percy Turner, and  Jack MacPherson (RIP)