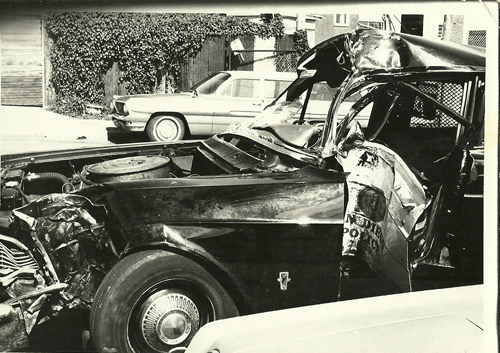 Here is how the story goes. Huge Mac Meda Convention at WindanSea. Cops like always were waiting out of sight, usually lined up like a fright train somewhere in Bird Rock or at the top of Nautilus St; glued to their radios, tapping fingers on the dashboard, just waiting to  bust underage drinkers.
And the wishful wish of finally put the end to the La Jolla outlaw drinking group that had been terrorizing the so-called respected citizens of La Jolla for the last 5-6 years. Oh my … such bad boys and girls of the beach life.
Unfortunately, one over excited and ambitious cop got a little too carried away and forgot about the sharp turns at the bottom of Nautilus and Bonair streets.
So, instead of flying off on to the shore break of WindanSea and/or a nice nose dive into the rocks and sand,  this one elected to crank the wheel to  take the sharp turn (smart man). He  suddenly found himself rolling upside down under the sounds of screeching metal, breaking glass and tires popping.  Oh yes, the hood found its way resting in a pile of dust.
The once spit-polishing clean AND very lovely, black and white rolled a couple of times and laid to rest like nicely freshly planted flowers on a grave, right in the red zone of WindanSea parking lot and in front of many WindanSea Wallers.  The cop walked away a tad embarrassed and with a few bruises and scraps; hated to have been him the next day answering to his superiors.
Oh my … what "bitchen excitement" it was back in those good old days.