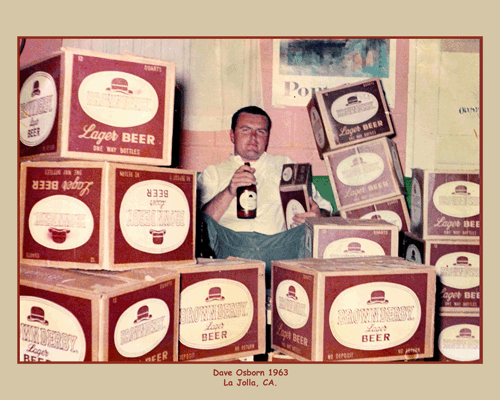 Artist and Red Mountain Inn owner, Dave Osborn relaxes surrounded by cases of Brown Derby beer. Now I bet he wishes he kept some of the cans and/or bottles.
Brown Derby?  What the hell is that?
For those kids who have stumbled upon this website, Mac Meda (obviously experts on beer consumption), Brown Derby was a store brand, something that was more common after Prohibition than before. Once Prohibition ended in 1933 brewers looked for new markets to replace the old, discredited saloon model with saloons "tied" to specific breweries.
Most beer sold before 1920, when full nation-wide Prohibition began, was sold on draft, usually in a saloon. After Prohibition brewers sold draft beer in bars (note the name change) but also began selling more beer for home use. Bottling beer had begun on a wide scale in about 1910, and in early 1936 canning beer began, adding a new way to package for home use. Cans and bottles were easy to carry and could be sold individually as well as by the case (or the six pack starting in the late 30s). More groceries then began to add packaged beer to their shelves and so the distributing companies that supplied grocers began carrying it as well.
In the 1930s the West Coast Grocery company in California supplied Safeway stores  as well as another chain called MacMarr. They contracted with the tiny Humboldt Brewing Company in Eureka, California to make a new store brand called "Brown Derby."
Meda Editors Note:  The old Safeway store in La Jolla  was located where the Vons is now on Girard and Fay. There are some great stories about Safeway –  to many, it was their first place of employment working as a box boy. To others, well maybe we will get some comments –  all I can say, think, the movie, Animal House, the  food market scene 🙂
In 1988 Safeway sold many of its stores to Vons and the new owners decided not to keep the brand. Brown Derby was still sold in Safeway stores in the west, where the brand had been born.
To the Mac Meda and beach crowd Brown Derby fell right in line with Red Mountain wine.  If you has limited money –  it was cheap and a LOT BETTER in taste. It was a good deal.  A $1 got you a six-pack. For $1.50, a pack of smokes, chips,  and a six-pack, just enough to head to WindanSea wall to watch the sunset.
Some Brown Derby cans are very common, some are hard to find, and a few are rare. The rarest ones are probably the original brown and green cans from the famous Brown Derby Restaurant in Los Angeles (which sued for copyright infringements and that is why the cans/bottle are all brown now) and the 1940s quart produced by the Salem Brewing Association. Thee original brown and green cans are now insanely rare to beer can collectors … at a recent auction, a six-pack went for $200, a far cry from the original $1.
Here is a silent  sales promotional film for Brown Derby beer made in the late 1930s.