Occasionally, when reading surfing publications, there is a reference to the 'Mac Meda Destruction Company' of La Jolla, California.  The writer often makes a reference to outrageous parties, drinking beer, wild women, tearing things up, surfing, and generally having a really bitchen time.
The Mac Meda Destruction Company was started in the early 60's by Jack Macpherson (Mac) and Bob Rakestraw (Meda).  Jack surfed.  Rakestraw didn't.  Both lifted weights.  The two shared a house at 7436 Girard Street and the stories about the house and their friendship have become legendary.
"The party went on for 7 years, 24 hours a day.  The door was always open," Macpherson remembers fondly.
It is generally agreed that Rakestraw enjoyed breaking things.  5'4", 190 pounds.  A bull in a china shop.  Instead of swearing, he would croak … "Meda"…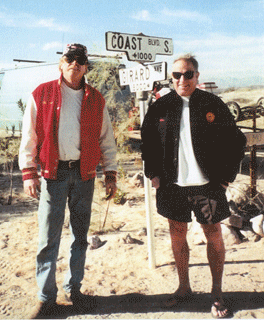 In their living room, sat an old Zenith TV, which was on the fritz and necessitated occasional light kicks.  Jack got tired of getting up and down, so he rigged his shotput on overhead pullies.
One night, Rakestraw and Alex Chase were watching the Cassius Clay fight.  Jack was in Aspen.  The TV went out altogether.  Rakestraw got so mad, he threw the shotput through the screen, tied it to the back of his Mercury, and dragged the poor thing to Carnahan's Junk Shop in Bird Rock.  There was nothing left but splintered wood and broken dials.  Rakestraw's face was purple.  Veins were popping out.  He dropped it on the Old Man Carnahan's counter and screamed, "Fix it.  I'll be back tomorrow."
Rakestraw used to amuse party guests by eating a banana (peel and all).  An orange (peel and all).  A cube of butter (paper and all).  And then he'd finish up with a shot of gasoline.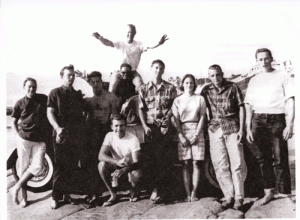 Bob went to jail so often, Jack fixed his bedroom to resemble jail, so Rakestraw would feel at home.
The star gorilla at the San Diego Zoo was a magnificent silverback named Albert.  Bob was crazy about him and spent every Monday at the gorilla house, just staring at his hero.  When Albert became a father, he passed out cigars.
Rakestraw's car.  A '54 Ford.  Powder blue.  Jack and Rakestraw jumped up and down on the hood until it bent over the carburetor.  He wanted a hard top convertible, so the window posts were sawed out.  Then the windows were punched out.  He painted a picture of a cop on one door and the finger on the other.  The two roommates sat in Windansea parking lot and shot out the dashboard dials.  Jack figures there were hundreds of holes.  The piece de resistance happened at the tennis courts on Draper Street.  Jack admits they had been drinking.  Someone decided to put a quarter stick of dynamite in the front seat.  They crouched down in back.  Kaboom.  Smoke poured out.  The blast bowed the dashboard.  The tennis players came running over and the boys played dead.
Well, friends started saying thinks like, "Mac and Meda.  They're a walking destruction company."
In the early 60's, plans were being readied for the construction of Interstate 5.  Houses were vacated.  Mac Meda decided to help out the knocking houses and barns down for free.  Business cards were printed…
Well, other guys came on board.  Charlie Farley, Charger Pat Shea, weight lifter Chris Palmer, skier Stirling Burnett.  "There'd be 10 or 20 of us who would go out with sledgehammers, axes and football helmets and wreck an old house.  Of course we asked the owners first.  Once we did 5 houses and a 40 foot water tower in one day and they were known for pushing cars off Torrey Pines cliffs.
Pat Shea, one of the original Chargers, usually helped out.  The guy weighed 250 pounds.  He was huge.  I saw him run right through a wall once.  After we finished with the walls, everyone would climb onto the roof and get the whole house swaying back and forth.  I mean, the whole thing would be moving until it caved in with all of us on top of it."
Macpherson and Rakestraw started printing Mac Meda tee shirts, using Mayfair Market bag stencils and red spray paint, in the alley behind Stirling and Joann's Fay Avenue house.  Stickers featuring a mushroom cloud were printed.
In 1963, the first Mac Meda Convention was organized in the canyons east of Del Mar.
'Huge beer orgies,' Tom Wolfe described the gatherings in his 1966 essay "The Pump-House Gang".  Hundreds of kids would converge in Sorrento Valley, Windansea, Palomar College or Rosarita Beach, clad in Mac Meda tee shirts and carrying cases of beer.
By Jamie Nay – date way back when