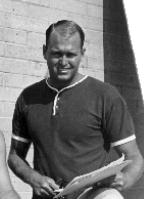 A former high school basketball coach, Chuck Hasley was known for his organizational skills, sense of humor and for having what his son, Chris, called "a little bit of the devil in him."
Back in the early 1960's Hasley suggested starting a surfing club of their own called the Windansea Surf Club. He knew there once had been a surf and ski club in the area and wrote, "I figured the people up the coast would remember there was a club at Windansea and think it was the same club."  A club logo was quickly created, and Hasley was named president and t-shirts were printed.
"He was a Pied Piper kind of guy," said Carl Ekstrom, an early member of the Windansea Surf Club. "He was fun to be around, and people were attracted to him."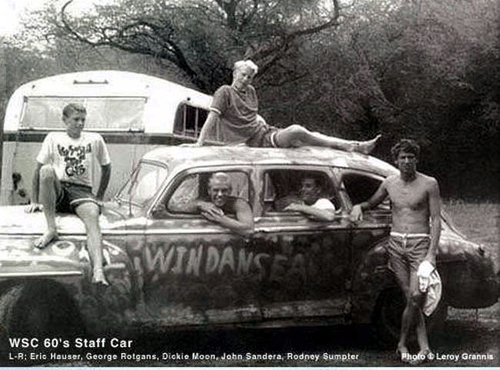 During its heyday under Hasley's direction in the 1960s, the Windansea Surf Club, boasted some of the best-known names in surfing, including Hobie Alter, Del Cannon, Mickey Dora, Phil Edwards, Joyce Hoffman, Margo Godfrey, Mickey Munoz and Donald Takayama. Others like Billy Andrews and Dickie Moon also got fame by being some of the first to surf Black's Beach.
Hasley was working at the Hobie Surfboard Shop in Pacific Beach when he and several other local surfers began talking about the Malibu Invitational in 1963, in which the surf club took top honors during competition.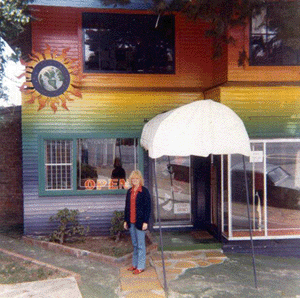 The club afterwards and its members won numerous surfing contests. But, according to surf historian Matt Warshaw, the organization that is named after La Jolla's premier surf break was even better known for the Mac Meda's  hard-partying style and rebellious attitude shared by most of its members, like Butch Van Artsdalen.
His house on Waverly Street in La Jolla was the scene of many  all-night partying. One of the cool things that this editor remembers, is that, I used to babysit for his kids. He always paid me double of the going rate, which was .50 cents an hour at the time. A buck was big money back in the mid-1960s.
"There was this really raucous sort of blond-haired, beach-rebel image that surfing had in the early and mid-'60s, and it was very much typified by Windansea," said Warshaw, author of the recently published "The Encyclopedia of Surfing," which includes an entry on Hasley.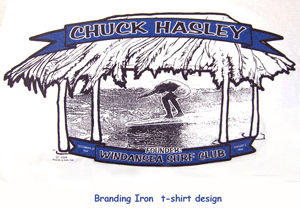 Locals who surfed at the Windansea surf break were known as fun-loving rebels long before the Windansea Surf Club was formed. This was captured by young Windansea surfers and  riding Flexy's down a La Jolla storm drain to the beach wearing Nazi uniforms that had been "borrowed" from a film/costume company in LA.
Hummm, borrowed? Gee … were they ever returned?
"By the time the club was formed, it was drawing from that pool of surfers: They really had that Windansea sort of mind-set," Warshaw said.
In the mid-1960s, Hasley and club member Mike Hynson opened Windansea Sport, a La Jolla surf shop right on Coast Blvd and Prospect St.  But in 1970, Hasley got popped for pot, and  was convicted of selling and served four years of a 15-year sentence and the sports store closed shortly after that.
On Jan 2, 2004,  on a rainy night in Pacific Beach Chuck Hasley, owner of a silk screen and embroidery business in La Jolla, died of injuries suffered in a single-car accident in Pacific Beach when his car  hit a tree.