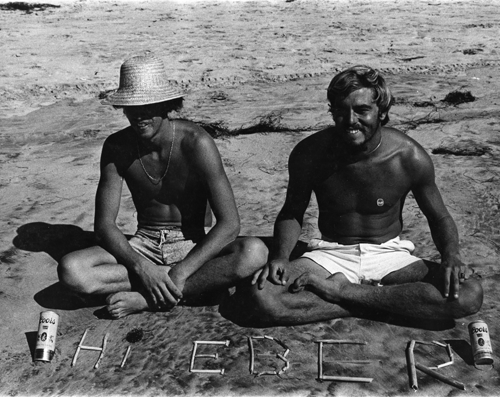 Grant you there were many of the beach crowd that escape death at young age, and more than many who should have  gone to jail that did not. However, there were a few that always seemed to be in the wrong place at the wrong time.
Eber was no exception. Beside the minor incidents like  skeleton drinking buddy incident and shooting an spud (potato) gun at the Rough Drink, he did manage to spend some time at the infamous Soledad.
With people like Doug Moranville and Jon Sarrett …  Eber had good friends on the "outside," who would let him know they were thinking of him, via the Mac Meda way.
Jon in particular would send Eber letters almost daily  and photos of the beach and sweet notes from chicks. Eber saved all these photos. He was quoted as saying with a tear in his eye to the Meda Editor this week, "If it wasn't for people like Jon, I don't know how I could have handled it."
Since the prison officials would censer all stuff sent, everyone had to be careful. Sometimes Eber said he would get stuff from people who did not know how to be cool. Black felt pen ruined a lot of letters. Cuss words, anything that resembled drinking, drugs etc would be blotted out. A few letters he got he could not even read they were so littered with black.
However, many got through with some type of  hidden message …
The photo is just one of many that Eber has. This one was taken at Blacks Beach and check out the writing and where the photo was taken –
Hummm ….  does it resemble something that the beach crowd were most aware of at the time?  We love the flanking of the Coors …