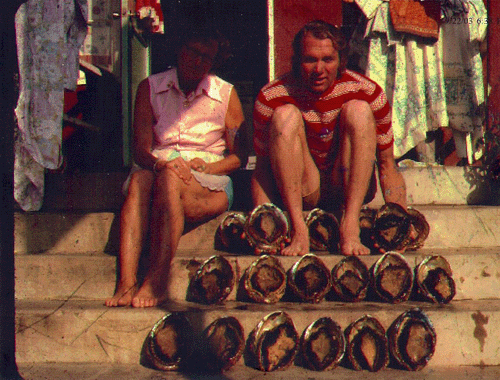 Back in the good old days, La Jolla abalone  diving was just a matter of getting into the water and searching for these  uniques creatures. Or in the area of Bird Rock, at low tide one could walk out and over turn rocks and there would be these wonder creatures.  The prime spots were Bird Rock to North Bird and anywhere in the general area of the Case Pool and Cove areas (which is now a marine reserve) due to their rocky bottom. In the early 1970s,  Richard Krug organized the 1st Abalone Dive Contest that was held off Point Loma, were the best of the best divers, free dived, and afterwords have a huge ab party.
Then after cleaning it, slicing it into 1/2 steaks, one would tenderize the abalone by hammering it with a hammer or mallet until it became about 1/4-3/8s thick. The prime way of cooking it was on a very hot skillet, butter, olive oil, and garlic.  Salt and pepper was used to taste and forget the breading.
Abalone and Lobster was a part of the La Jolla, California beach  scene as surfing, drinking, and avocados would be  like to the  bayou crayfish of Louisiana.
For most la Jolla kids eating abalone sandwiches was just as easy as making a peanut butter and jelly sandwich. It was common to see these eaten during lunch at La Jolla High School.
The Meda Editor remembers in school, coming home (almost crying) and asking his mom if she would buy baloney for his sandwiches. One of the kids in school had teased him that his family was poor because his parents had to catch their food. Nowadays that would be a sign of rubbing elbows with the rich and famous.
Back in the 1960s the season for abs was 6 months with a limit of 10 abs,  then that changed in 1970 to 8 abs, then to 6, then to 3 and now there is a  complete ban on taking abalone along the Southern California coast and the Channel Islands. It is hoped that in many years the abalone fishery might make a come back, but we doubt it.
In 1997 southern California was closed to the taking of abalone by both sport and commercial divers. This ban was introduced by the California State Department of Fish and Game as it became apparent that the numbers of abalone in southern California were so small it was feared that some species would become extinct.
Abalone can still be taken north of San Francisco but only by skin diving (no air tanks) and a special abalone stamp must be purchased in addition to the regular sport license. This allows funding of a program to monitor the status of the stocks. Abalone diving remains a popular sport and as the human population grows in Northern California these remaining dense beds of abalone above San Francisco are threatened by poaching as well as sanctioned take. Northern California was never open to commercial abalone fishing and while El Niños and disease have not impacted the population, there are areas of easy access that have experienced serial depletion.