Blacks Beach's for surfing and nakedness, and 3) for pushing cars off.
Okay, the first two are still what the cliffs are known for, however the third, it is been outlawed for obviously reasons.
Back in the late  1930s Torrey Pines was a quick way to get rid of that junker, you know those white elephant Model Ts (now worth their weight in gold)  that  were a dime a dozen and taken up space in the garage. It wasn't until old man Black built a road down to the beach was when the quick disposable dump site   discovered. At one time there was a number of Model-Ts laying at the bottom.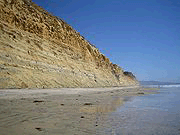 Jack MacPerson and Bob Rakestraw started these events back in  1961 when they would play demolition derby with cars in WindanSea parking lot or in downtown La Jolla (they would intentionally crash into each other, scaring the hell of many La Jollans) until the cars suddenly became damaged goods.   So the big question was asked, "What to Do?"  That was when the brain started  thinking – Rackstraw would file off the serial numbers, and either tow or drive the car to the cliffs. What a perfect place to get rid of a car, plus drink a ton of beers while having some fun doing it …  sounds like a bitchen plan to me!
According to Dave Osborn (Red Mountain Inn) Eric Masterman and Doug Moranville, "It was a real rush as you had to hang out over cliff to see them land ………. then run to your cars and haul ass out of there" The reason for the quick get-a-way … well the cops had a bounty of  $500, plus towing fees on getting caught doing this. Five-hundred back in the 60s was worth about, $4000 now.
About the only problem (at the time) was driving down Black's road to the beach. Old man Black (RIP) hated for people to use his private road, and would sit on his back porch with a 12 gauge shotgun loaded with rock-salt, and sadistically fired at those scrambling down his road. To early surfers, the long boards were very handy; it provided a perfect shield from getting hit with rock-salt.
At first it was a spectacular event before the cops started to patrol the area.  A few cars were loaded with Meda locals would be waiting at the beach below, drinking beer, priming for the grand finale. Once the car got pushed off, cheers would start as the car tumbled down, then the explosion of the hit, a quick approval of the damage, then haul ass.
Unfortunately, this event was one of Mac Meda's most expensive.  David Osborn said, "One time they bought Troyers family Woodie, a 1949 Buick. John Collins (RIP) a real La Jolla dare devil ran the show. The car was in great shape just old and tired. After crashing around in the back woods, and Collins drove it into a tree, and for some reason, it just did not run any more (gee I wonder why). So it got its final salute … it was then launched over the cliff.
Only 653, 1949 Buick Woodies were built, with very few in existences now; to have one now in mint condition, it would be worth 100-200K +
Special thanks to David Osborn, Eric Masterman,  Doug and old man Black (RIP) for adding to this post…