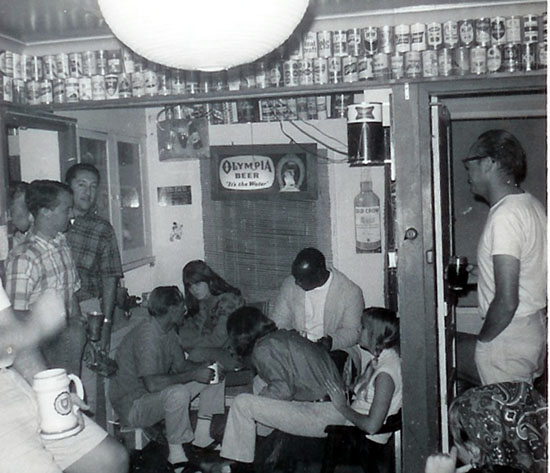 .
The stories of the La Jolla Girard Street house are infamous, the true life "Animal House," that put together true life outrageous parties.
David Olson, formal owner of the the Red Mountain Inn, probably said it best, "I recall the first time I was invited to Macpherson's Girard Street house, and it sort of like the Yankee's calling you up from the minors, now you're playing with the big boys & girls! His house was a place that could do anything and not worry about it as Rakestraw always did something that would be so outrageous that no one would remember what you did."
No doubt the Girard house was the social clubhouse of Mac Meda and the decor clearly showed it was an icon and salute to drinking. The place was plastered with beer signs, beer cans, and whatever found its way after a drinking binge in La Jolla, like street signs, fire hydrants, and potted plants whose lifespan was a week or so. Plants have a hard time living on alcohol only.
Jack always had a passion for taking in rejects or the unwanted so to say.  The doors were open for everyone, not just a place for drinking. There were many that were down and out, or just got out of jail and needed a place to say, or just had no place to go. Jack openly showed his hospitality and always offered them a roof over their heads.
And of course anyone that could power down a pitcher and smash their head in a wall, still stand, and had this strange fascination for a gorilla, named Albert, had to be a cool person and that is how Jack and Bob  Rakestraw became roommates.
Probably the best remembrance of the house was when Jack decorated Rakestraw's room as if was a jail cell, so he would feel more at home, complete with bars on the door.  And when someone took a picture of Bob peering out with a live grenade, it pretty much sums of Rakestraw's lifestyle,  Jack's sense of humor, drinking, and Mac Meda …  from there both rose to legendary proportions.