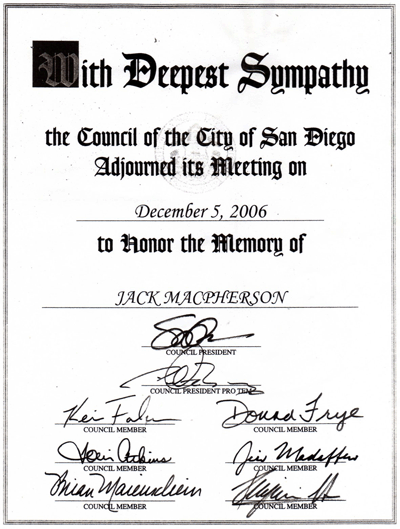 The City of San Diego Town Council adjourned it meeting on December 5, 2006 to honor the memory of Jack MacPherson.
Council members at the time who signed the document were Donna Frye, Scott Peters, Jim Madeffer, Brian Maienschein, Kevin Faulconer, Toni Atkins, Tony Young, Ben Hueson.
Donnie Frye is the wife of surfer Skip Frye who used to surf with Butch Van Artsdalen one the first WindanSea Surfers
We remember that little spat of how Maienschein and his council pals "deliberately concealed" from the public that the city was violating state law by overcharging residents for sewer costs to subsidize large commercial users. The probe also found him negligent for his role in approving grossly misleading bond documents in 2002 and 2003 .
… don't you just love government, but Mac Meda  thanks the city council for their kind thoughts …
Document provide by JK