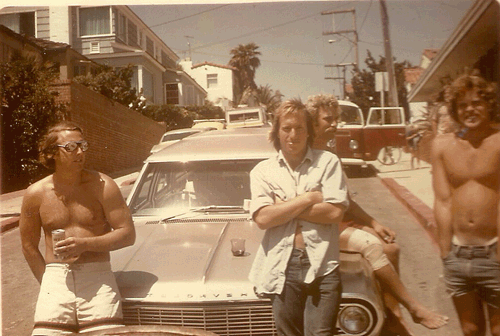 During summer you would have hard a hard time beating the lifestyle of the popular strand of Sea Lane beach in La Jolla California. The secluded beach was just another saga in the life of Mac Meda … it was not a place for the tourist to go. And it did become a popular place for that romantic  late night spot.
Many men became men and many a fair women lost their virginity; Sea Lane, romping in the sand did not mean building sand castles.
Unlike WindanSea, Sea Lane did not have an endless flow of traffic, the secluded beach was about a 1/2 mile north. It offered the locals free sand and plenty of space to sun worship, drink, dive, drink, body whomp, drink, play horseshoes drink, and volleyball. In was very common for the WindanSea wall gang to misdirect those tourist asking, "Were's Sea Lane or Marine St?"
The common misdirections were head up Nautilus to you get to the top of the hill, and depending on the spirit of the mind at the time and how many beers one had, either directed them to the Shores or down to Pacific Beach. One thing for sure, once they got to the top of Nautilus, they were really messed up and that got a ton of laughs.
Beside the fact one had to be a good swimmer to get past the shore break at times, it was no problem finding a spot to spread your towel, lawn chair and most important, your cooler. The umbrella was a huge mistake because it was a clear-cut sign of tourism.
Locals would park at the top; scan the beach and BS with those heading for a bit of horseshoe or volleyball. People like Jack MacPherson and Nick Wyre would set up nets Friday afternoon and when Sunday arrived if they were sober enough to pack them away, they would. More likely the nets were out for the week and during summer, well, the whole summer.
The Quints lived right at the bottom of Sea land, the Janis clan a 1/2 block up; Eric Die and the Mowerys around the corner. And up a few short blocks and across the blvd, the infamous White Cottage with the white picket fence … where one would think this perfect setting would roost the All-American family.
Buzzz wrong! … that's where Little John Sylvada's and his huge Great Dane, Conrad lived. Oh …  do we have some posts and comments coming up for this place…