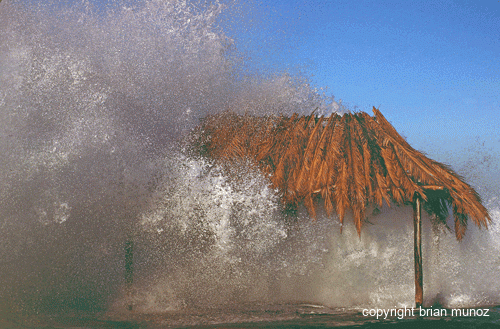 NEW – WINDANSEA SHACK HISTORICAL TIMELINE
WindanSea Beach encompasses a historic stretch of scenic coastline located in La Jolla, a community in San Diego, California. It is named after an oceanfront hotel that burned down in the late 1940s. Geographically, it is defined by the beachfront extending north of Palomar Avenue (Big Rock) and south of Westbourne Street (Simmons). Historically, it is defined by some of the most progressive and colorful characters in California surf  and beach crowd history.
The focal point and cultural icon at Windansea is a simple palm-covered shack, located beneath the narrow parking lot, just in front of the main peak. According to some historical stuff , it was originally constructed in 1946 by original locals Woody Ekstrom, Fred Kenyon (RIP) and Don Okey.  And was designated as an historical landmark by the San Diego Historical Resources Board on May 27, 1998.
The main peak at Windansea is a classic reef break and has long been famous among the region's most skilled surfers for its reliable waves and consistently good form. The geographic location of Windansea's reefs is ideally situated to host a broad variety of swell directions, especially the fickle south swells that often seem to elude other San Diego County, California beaches. During the summer months, when most locations are experiencing two-to-three feet surf, it isn't unusual for Windansea to pick up six-to-eight foot surf. On a Southwest swell,  fifteen foot plus waves are common.   Other breaks in the vicinity of Windansea include Middles, Turtles, and Simmons, named after Bob Simmons (who died at that break in 1954), and Big Rock.
WindanSea has always  gained notoriety for being known for its beach partying.   Police started to  cracked down on some of the early luaus in the late 1950, but the real big ones, and the out-of-control events started in the late 1960s with the  Mac Meda Conventions where swarms of police were called to WindanSea, when rumors of a Convention was being held, particularly the 1968 Convention.  The last big one was in 1978 at the Pumphouse.   The social hub for local is in four location:
The narrow parking lot, located on the bluffs overlooking the Windansea shack .
The Shack itself on the rocks overlooking WindanSea surf break.
Across the parking lot, what is known as WindanSea Wall were the coolest of cool locals hangout.
The Pumphouse, just South a 100 yards made famous by Tom Wolfe's book.
No doubt WindanSea is "local only territory."  There are no tourist or visitors facilities  and the locals like it that way.  The parking lot offers only 16 spaces  and there are no drinking fountains, showers or public restrooms. Recently it went through a major rehab which included repaving of the parking lot, new guard rails and some fancy steps and landscaping, which had some outcry from locals who wanted it to remain just like it has been for the last 50 years.
Windansea has served as home break at one time or another to many notable surfers, including Pat Curren, Mike Diffenderfer (RIP), Joey Cabell, Mickey Munoz, and Butch Van Artsdalen(RIP). As far as its impact on surf culture and the development of the sport, it ranks at the top of the list along with Malibu, San Onofre and Huntington Beach.
Steve Pezman, former publisher of Surfer magazine and current publisher of The Surfer's Journal, called Windansea locals in the early 1960s, "the heaviest surf crew ever."