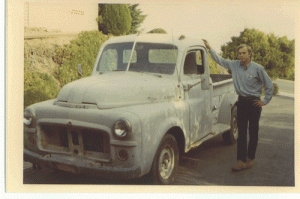 To many of La Jolla's 60s beach crowd probably don't know of Bill Pfanner, but to the early 70s WindanSea wall crowd,  he was well-known for his, athletic ability, beach life,  partying and just an all-around good person. A true friend to many.   He had no enemies.
He was one of those Jack Of All Trades …  master at making a few bucks, whichever way he could. Painting, laying brick, clean-up and putting on mini-keg parties was what he was good at.
He loved playing street hockey with Beachball, Canning, Burriston, the Wyres, Paul Dougless, Little Chucky, Bill Wilhelm, Moranville, the Woods, Otter and Beaver, and many more.
He hung out at the WindanSea wall and at Sea Lane, body whomped and surfed. His traveling took him to Mexico, Palm Springs for the Easter Vacation, and Mammoth. He was a thrill-seeker, like to test the outer limits so to say and free-spirited. He went to Mammoth to work at the lodge sizing boots  for skiers feet … and hated it …  but it did give him a free ski pass that was worth smelling stinky feet 12 hours a day.
He was the only person whose tragic accident occurred during a Mac Meda Sorrento Valley Convention in 1975, which ended his young life in 1977.  A little buzzed, he took a motorcycle for a spin on Carmel Mountain'd dirt road, rounded a corner …  and hit a Porsche head-on, whose driver was going to the Convention.   The accident left him paralyzed from the waist down and devastated the life of the girl that hit him. She was his friend!
Bill always said,  "It was his fault." And never had any hard feelings for her.
For the next two years  he tried to live in a wheelchair, but his ability of not being able to feel the touch of sand on his feet, and cruise with his friends eventually lead to him taking a ton of pills that ended his life in 1977.  He just turned 26.
He left a suicide note to his mom, reminding her to please pay off the money his best friend,  Kip Ives had loan him; the last bit of honor and integrity that still lives in Kip's mind to this day. A real-life story of what friendship is all about.
His wake was the first one every held at La Jolla High School at the Girls Field.  A rock band played and many kegs of beer and shots  filled the stomach. A few hundred came to celebrate the passing of a truly good person.
Even after 30 plus years,  he is still talked about … we miss him.