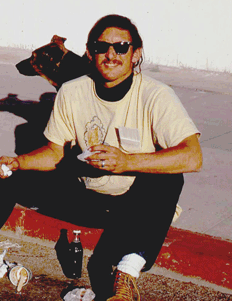 Roger Johnson was another unique La Jolla beach character that lived on the edge and eventually fell off.  His idol was W. C Field and Field's quote. "I never drink water because fish fuck in it" Roger could quote all of W.C's drinking quotes  and would  mimic him at times sober. He pretty much acted like W.C when he was shit-faced and it became an internal personally.
His favorite thing to do was the fish out of water. He would flop on the ground and twist and turn like a fish out of water. It always got a few queer stares especially from those that did not know him. And even got a few running when he did it at public places like on Prospect St in front of a packed Bratskellar (where Georges of the Cove is) bar (very common watering hole) or at WindanSea Wall in front of a car with Arizona plates.
He, obviously was one of the forefathers of the "Shock and Awe," and had a way of escaping death. He was most famous for as being one of the survivors of the truck that went over the La Jolla Cove cliff.
Roger's second favorite stunt  was the Turkey Gobbler, a strange act that required 401 button down Levis. He would unbutton his jeans and then hang his balls out and then button it except for the bottom two. He would walk through parties swaying his units. Needless to say, it either had a few girls screaming, but mostly them shaking their heads, mumbling, "There goes Roger again. Hummm… God, I need another beer!" It became just another trademark of Roger.
Roger grew up in La Jolla and lived on Electric Av. in his younger days,  so he was a local at WindanSea, Marine St and Sea Lane.  He also was known for Flexy-Flying down the storm drain and doing wild and crazy things. One time he was so drunk, he missed the driveway to his house and ended up going through the neighbors garage and the car rested on top of a brand new Lincoln Continental. Roger went to jail on that one and like Rakestraw, he went to jail many times.   He surfed in his earlier days, but was more into Body Whomping and just hanging out.
He at one time was a good framing carpenter. And for years his framing partner was Steve Manns. Both of them lived at the Cottages, a group of buildings that became as infamous as Jack's Girard St address and Bill Canning's, SSA  "Silverado Street Assholes." The Cottage's clans were regulars at the El Sombrero and when they could find someone who could still see over the wheel, they drove to Bird Rocks, Red Mountain Inn.
But as his life grew, carpentry become just a way to make a few bucks to support his habit, drinking, and then the demons of drugs took over his life, which eventually lead to his homeless and early death in the late 1980s.